PB-ingo is a rolling bingo challenge for server members featuring two themed 9x9 cards. Event-mod Sunny will post new cards every time the community achieves a two card blackout (see "Winning + Rewards"), but participants are welcome to work on whichever cards they like, for as long as they like, to achieve personal blackouts as well.
This is a low-key, for fun server event open to writers, artists, and other creators; if you are inspired by a prompt, please feel free to fill for it in whatever medium you feel comfortable working in!
If you are interested in taking part in this event, please request the role PB-ingo in #cryptos-cubicle using the /role command.
All creation types are very welcome!
Writing fills should be ~400+ words (we aren't counting though).
Post your fills and card progress to #server-challenges with the phrase PB-ingo fill in your message for official recognition and inclusion in the communal blackout. You're also welcome to post to promo channels as appropriate if your creation is complete.
One fill per creation (or per chapter of creation, if they are clearly delineated).
Creations should be Destiel-focused or gen; no RPF allowed
All ratings, warnings, and tropes are fair game.
There are no upper limits, deadlines, or penalties for non-participation.
We won't enforce this, but it would be sportsmanlike to reblog each other's fills.
Have Fun!
You can "win" in one of two ways:
By blacking out a card all by yourself.
-- Winners get a "PB-ingo Blackout" vanity role so people looking at your profile can see that you're a badass. You will get this role no matter how long it takes you to complete the blackout.

Working with other participants to achieve a communal blackout of both cards.
-- Once both cards in the current round are blacked out by any combination of participants, new cards with a new theme will be posted.
Can we collab?
Collaborations are welcome. Feel free to work together!
Does my creation have to fit the card theme?
Nope. The theme simply represents the connecting line between the prompts, and the prompts are just that: prompts. You are welcome to create whatever you want so long as it was legitimately inspired by the square you are filling, and follows the content rules of the challenge.
What if I don't like the current cards?
No problem. Wait for the next set, work on a previous card, or check out our other challenges!
Are there tumblr tags or an AO3 collection?
Tumblr tags are:
-- ProfoundBingo
-- ProfoundNet
A03 tags are:
-- ProfoundBingo
-- AO3 Collection: ProfoundBingo
PillowFort tags are:
-- ProfoundBingo
-- ProfoundNet
Can I use one creation to fulfill multiple squares from the same bingo round?
As a general rule, no. However, if you're doing something like a compilation of mini-fics under one header on AO3 where each chapter is a new fic, or each chapter is a distinct fulfillment of a specific prompt, that would likely be fine. When in doubt, ask a mod!
Can I use my creation to fulfill prompts from multiple bingo challenges?
We're all about consensual multi-bingo prompt fulfilment. Have at it!
Can I use the cards if I'm not on PB?
We can't stop you...but why not come on over and join the fun?
I have an idea for a theme and/or prompts I'd like to see in future cards
This is excellent news. Please DM your ideas to Sunny.
I got a black out, how do I get my role?
DM Sunny with your card + links to your creations.
Is there a banner?
We didn't think it was necessary because the cards are the focal point, but if participants would like one we're happy to make one. Just let us know!
Round 1 theme is Humor: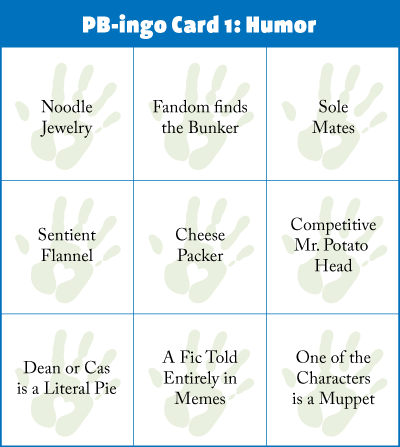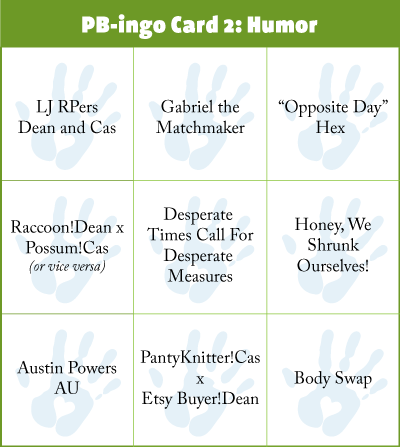 Round 2 theme is Legends and Folklore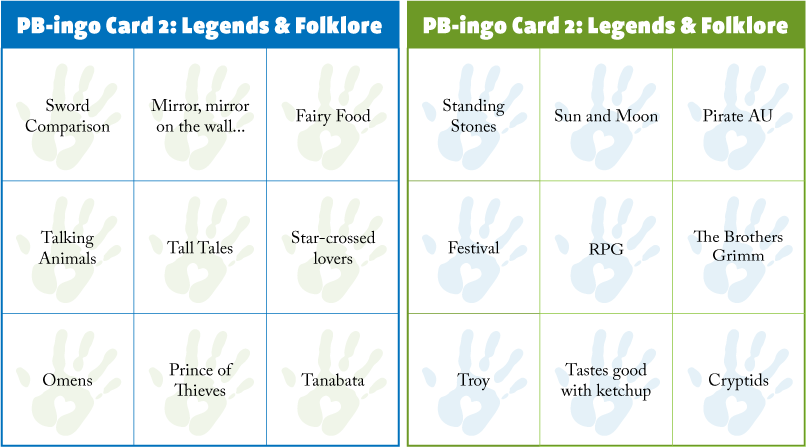 Round 3 theme is TBD
Amie!